Whether you're overseeing the post-production process of a feature film, commercials or any other media project, it's best to utilize a post-production scheduling software to help you stay on track. But how do choose the right software for your teams' needs?
We suggest going with an all-in-one software to get real time and up-to-date full overviews to be able to manage all your projects more efficiently. In this blog we will take you through all the advantages and challenges of using a Post-Production Scheduling Software such as farmerswife. If you are looking for the right tool, continue reading!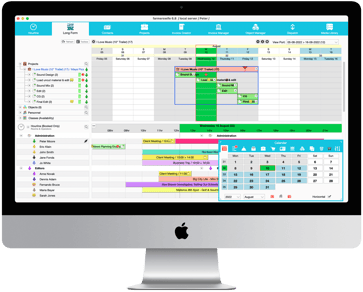 Basic features to look for and their functionalities
The following features should be present in any post-production scheduling software you decide to use. These will help you not lose time as you will have a better overview of resource availabilities, be able to control the budget, and work more efficiently in general.
Calendar
A calendar that is synced with all of your projects, staff and freelancers, clients, and suppliers will allow you to keep track of everything in real-time and to schedule with more accuracy. Whether you are working in production, post-production, broadcast, advertisement agency, equipment rental or a corporate media department, a calendar designed with the user in mind is crucial in a successful production.
Contact management
With a contact management feature, you will gain easy access to all your clients, freelancers and suppliers to be able to manage multiple projects and people across multiple platforms all at the same time. Companies that have a wide variety of projects in the works at any given time benefit greatly from this feature in terms of organizational ability and efficiency.
Gantt-style timelines
The farmerswife Gantt-style timelines keep everyone updated with what is happening daily or long-term by providing and easy overview of the defined project stages, milestones, and checkpoints. These types of timelines increase efficiency and productivity by providing a visual wide-angle view of the project.
Budgeting
Creating a film production budget will help you determine where you need to invest your time and money, keep surprises to a minimum and provide a guideline for you to follow during every stage of the production. Estimating and tracking these costs is immensely easier with a project management software.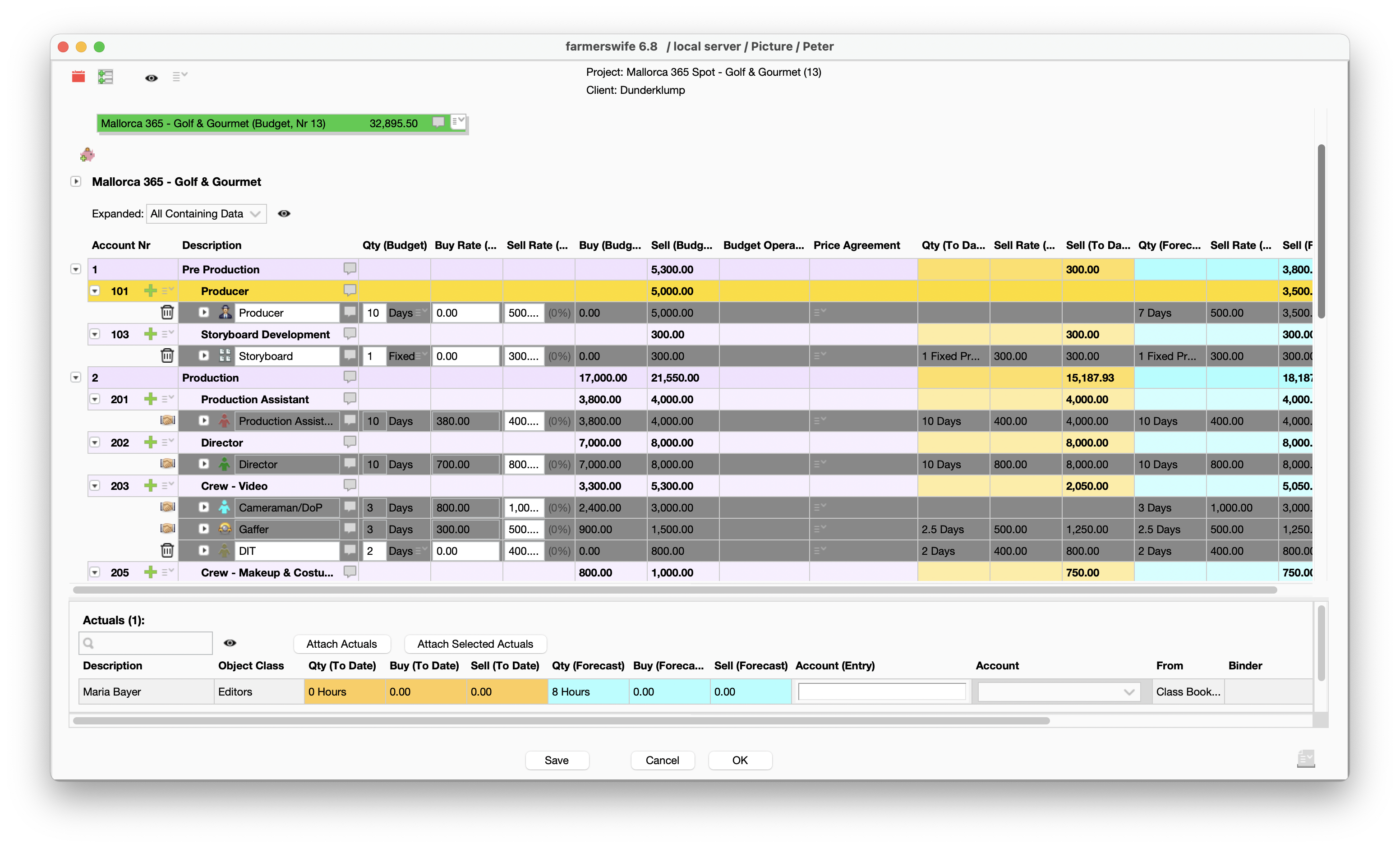 Time and cost tracking
Project managers need to be able to keep an eye on costs to estimate the time allotted for each phase of the production; this is an essential part of overall productivity and efficiency. A good post-production scheduling software should allow you to log and time tracking the hoursspent on each task as well as provide you with an up-to-date overview of the project cost whenever you need it.
Invoicing
With an invoicing feature integrated in the same software you will experience dramatic time savings and increased efficiency. The an all-in-one production scheduling software gives you access to a database that can automate the invoicing process to create your invoice bases of final invoices based on the real time updated project data.
Personnel management
Choose a software that provides a secure as well as an easy-to-use interface so your project managers can easily access and get up-to-date information on staff's availability, overtime, vacations, and other key personnel management aspects.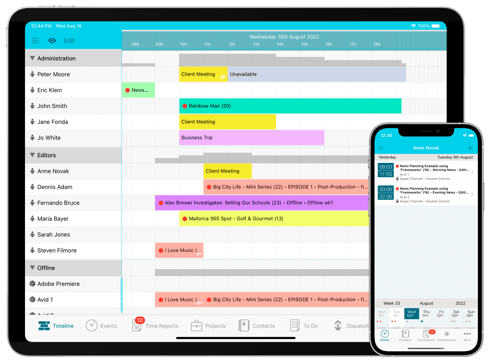 How can a post-production scheduling software simplify your work?
The best way to simplify your work is by using the best scheduling software in project and resource management for the media industry. farmerswife allows you to simplify your work by providing you with a toolbox that helps you organize and track project resources, plan and control the project lifecycle, and manage day-to-day tasks, all from the comfort of a secure, high-speed database that can be accessed across multiple platforms.
Simplify the workflow independently and as a team
The best thing about utilizing farmerswife's post-production scheduling software? You get more done because you are allowed to sync information across all platforms to keep the entire team up-to-date with real-time information. The software allows you to keep your entire team not only informed but engaged.
Track progress & work better together
Whether you're trying to enhance your company's personnel management, keep track of quotes, invoices & purchase orders, farmerswife will streamline each process for you and allow you to see who needs to do what and when. By assigning critical to-do tasks to team members that have remote access you can track progress as it is made, improving your team's remote work and collaboration.
Solve the challenges with post-production software
Post-production management software is quickly becoming one of the easiest ways in the media industry to prevent unforeseen challenges, accidental oversights, and other common problems that arise during the production and post-production phases of a digital media project.
Media project workflow chaos
Media project workflows need to facilitate the production of multi-platform content that will go anywhere and be viewed on anything. Rapidly-changing technology, new distribution channels, media diversification and economy are some of the challenges facing the post production industries. To leverage increased productivity, teams need to be able to have access to distributed workflow environments that a scheduling software can offer.
Lack of overview in project management
Managing and scheduling the entire media workflow process can be very difficult. And, creating individual bookings and work orders with, often, overlapping timelines is next to impossible. The solution is a real-time production software to keep track all of this. Included in this software should be the coordination of those facilities with bidding, billing and payments.
This area is particularly challenging in a world of diverse media platforms, expectations of fast turnaround time, and the increased availability of digital delivery options. Tight, automated integration with both transmission and file-based delivery scheduling platforms is no longer a luxury, it's a crucial element in a successful, profitable media workflow process. Our media management software in conjunction with an Adstream integration will allow you to produce your digital media and share it with clients or collaborators all through secure access.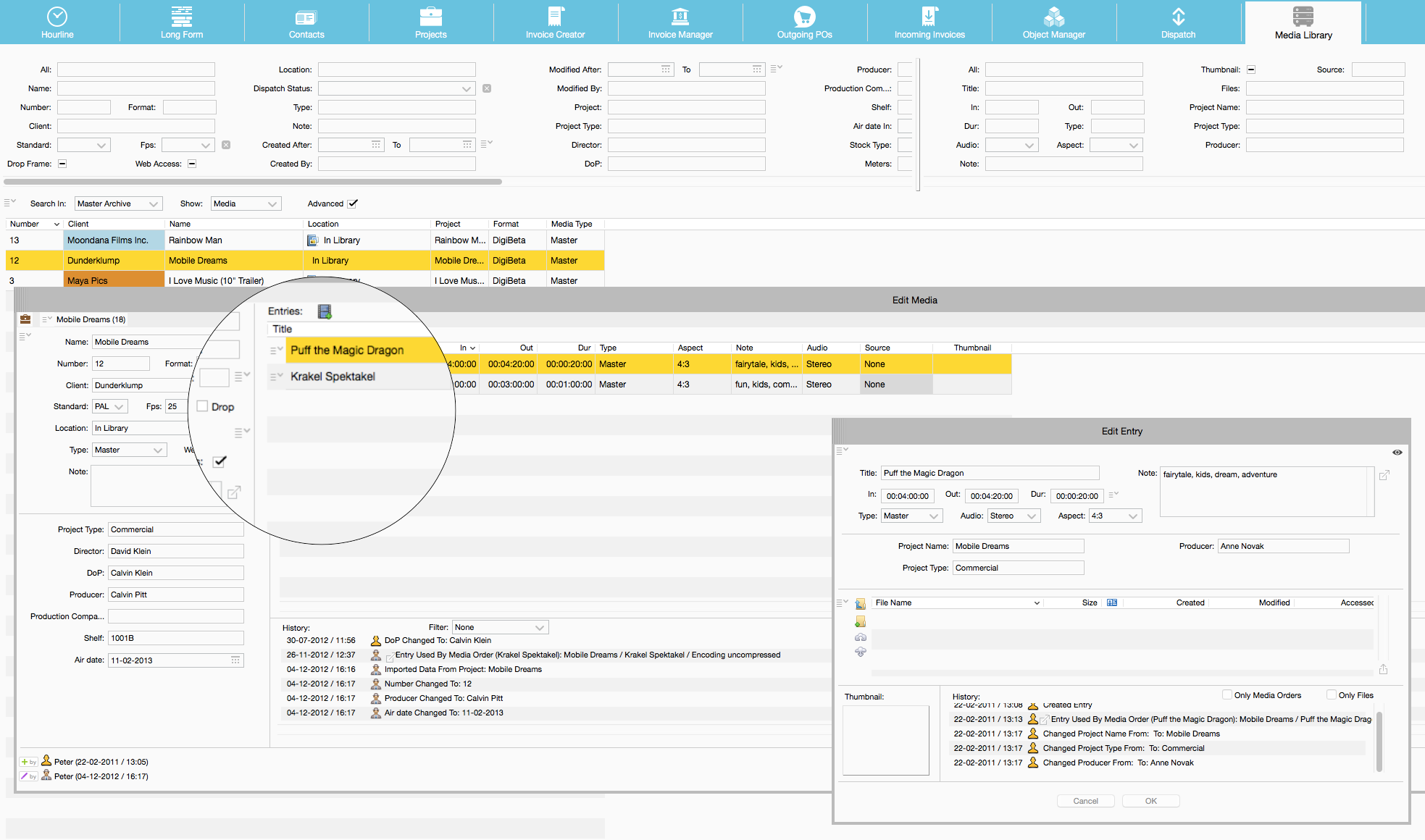 Integrating different functionalities
farmerswife takes the hassle out of post-production project management by integrating different functionalities into one software package while offering add-ons that complement the specific needs of your media production projects.
The software works in all phases of the production process and uses tracking features to keep an eye on time and costs which results in a smoother workflow process for everybody involved.
Post-production is one of the most complex phases in any media production which means that special attention should be paid to how you choose to manage it. Arm yourself with the best tools to be able to deliver an on-time, in-budget project every time.