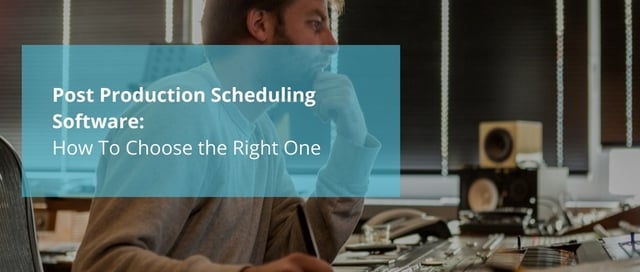 Whether you're overseeing the post-production process of a feature film, commercials or any other media project, it's best to utilize a post-production scheduling software to help you stay on track. But how do you go about choosing the right software for your teams' needs?
First, you'll need assess the needs in relation to your workflow and ask yourself:
How many tools are we using to manage our projects today?
Are we juggling multiple spreadsheet and struggeling to get an overview?
Where are the bottlenecks?
Do you need to an all-in-one software or simple add-ons?
How much do you want to spend on the software?
Great, now you have a better understanding of your needs. Now, regardless of what you answered to the fourth question, we do suggest going with an all-in-one software to get real time and up-to-date full overviews to be able to mangage all your projects more efficiently.
Basic Features to Look for and Their Functionalities
The following features should be present in any post-production scheduling software you decide to use. These will help you not lose time as you will have a better overview of resource availabilities, be able to control the budget, and work more efficiently in general.
Calendar – A calendar that is synced with all of your projects, staff and freelancers, clients, and suppliers will allow you to keep track of everything in real-time and to schedule with more accuracy. Whether you are working in production, post-production, broadcast, advertisement agency, equipment rental or a corporate media department, a calendar designed with the user in mind is crucial in a successful production.
Contact Management – With a contact management feature, you will gain easy access to all your clients, freelancers and suppliers to be able to manage multiple projects and people across multiple platforms all at the same time. Companies that have a wide variety of projects in the works at any given time benefit greatly from this feature in terms of organizational ability and efficiency.
Gantt-Style Timelines – The farmerswife Gantt-style timelines keep everyone updated with what is happening daily or long-term by providing and easy overview of the defined project stages, milestones, and checkpoints. These types of timelines increase efficiency and productivity by providing a visual wide-angle view of the project.
Budgeting – Creating a budget will help you determine where you need to invest your time and money, keep surprises to a minimum and provide a guideline for you to follow during every stage of the production. Estimating and tracking these costs is immensely easier with a project management software.
Time and Cost Tracking – Project managers need to be able to keep an eye on costs to estimate the time allotted for each phase of the production; this is an essential part of overall productivity and efficiency. A good post-production scheduling software should allow you to log and track the time spent on each task as well as provide you with an up-to-date overview of the project cost whenever you need it.
Invoicing – With an invoicing feature integrated in the same software you will experience dramatic time savings and increased efficiency. The an all-in-one production scheduling software gives you access to a database that can automate the invoicing process to create your invoice bases of final invoices based on the real time updated project data.
Personnel Management –Choose a software that provides a secure as well as an easy-to-use interface so your project managers can easily access and get up-to-date information on people availability, overtime, vacations, and other key project management aspects.
Integrating Different Functionalities
farmerswife takes the hassle out of post-production project management by integrating different functionalities into one software package while offering add-ons that complement the specific needs of your media production projects.
The software works in all phases of the production process and uses tracking features to keep an eye on time and costs which results in a smoother workflow process for everybody involved.
Post-production is one of the most complex phases in any media production which means that special attention should be paid to how you choose to manage it. Arm yourself with the best tools to be able to deliver an on-time, in-budget project every time.