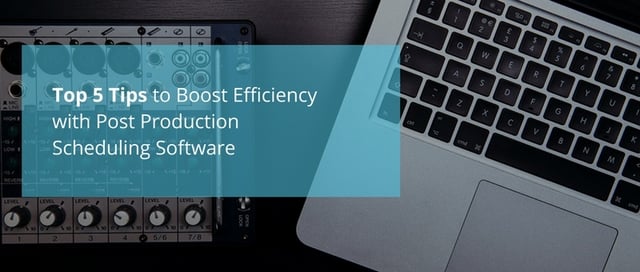 Many tips and tricks exist that allow you to open the door to a more productive workflow both in and out of the office. While these tips are helpful, they often don't take into account the specific workflow present in a post-production media atmosphere.
Understanding post-production is essential in a smooth production workflow. Take a look at our top five tips to help you boost efficiency by using post-production scheduling software to stay on track.
1 Freelancers
To keep track of the people you outsource to complete certain tasks, scheduling software is crucial. Whether you're trying to keep track of invoices to be paid, your hard costs or as simple as who is scheduling software like farmerswife is necessary to stay efficient. And on time.
2 Work Around the Clock
We all know that in this business no one works regular business hours. However, working hours can be hard to keep track of. The farmerswife resource scheduling and time reporting help you keep track of the hours spent on various projects. The Timeline not only helps you keep track of editing hours, it provides defined project stages, milestones, and checkpoints.
3 Stay Up-to-Date
This includes making sure the entire team is up-to-date on who is doing what and when. Keeping a tight rein on your production team increases ROI as well as boosts efficiency. When utilizing the time-reporting feature you will get updated actuals as they occur. Communication with your editors, artists and operators is simplified using the web client, iOS application or the mobile client.
4 Stay on Top of Expenses & Finances
Managing the budget on any media production can drastically affect the efficiency of the post-production workflow. Media projects aren't cheap, and an inefficient team can rack up costs very quickly in overtime, equipment fees, and other related costs.
Utilizing a post-production scheduling software can make dramatic savings and boost efficiency all at once. By allowing your project manager or producer to create quotes, payments, and schedule adjustments, you are allowing the entire team to work in a more efficient and cost-effective manner.
5 Utilize All-in-One Software
This might seem like a shameless plug, but it's true. Using an all-in-one post-production scheduling software increases efficiency.
Because having everything in one place and receiving a full overview of the project at the end of each production or post-production day is going to make you on top of the situation. By keeping the team up-to-date with an overview of the big picture, you are keeping them engaged, motivated, and informed. This increases efficiency in the workplace overall as well as in each team member.
Whether you're working on a multimedia project, creative agency work, or scheduling the post-production of a feature film, utilizing scheduling software is going to make life easier. farmerswife is designed specifically for media industry professionals and will help you increase efficiency, reduce costs, and lead to an overall improved workflow.