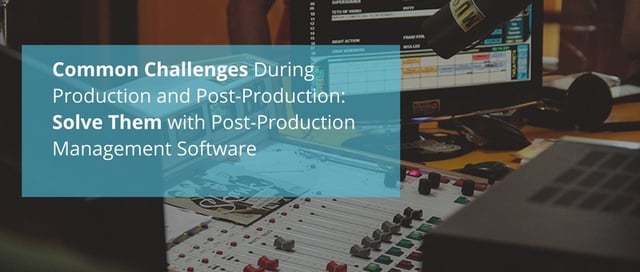 Post-production management software is quickly becoming one of the easiest ways in the media industry to prevent unforeseen challenges, accidental oversights, and other common problems that arise during the production and post-production phases of a digital media project. Here, we'll give you a few of our favorite tips and tricks on how to solve these challenges. But first, let's take a look at the two main challenges companies in the digital age face daily on their road to success.
MEDIA PROJECT WORKFLOW CHAOS
Media project workflows need to facilitate the production of multi-platform content that will go anywhere and be viewed on anything. Rapidly-changing technology, new distribution channels, expensive technology, media diversification and economy are some of the challenges facing the production and post production industries. To leverage increased productivity, teams need to be able to have access to distributed workflow environments that a scheduling software can offer.
LACK OF OVERVIEW IN PROJECT MANAGEMENT
Managing and scheduling the entire media workflow process can be very difficult. And, creating individual bookings and work orders with, often, overlapping timelines is next to impossible. The task of administering, managing, scheduling and coordinating all of your resources is getting harder by the day.
The solution is a real-time production scheduling software to keep track of your rooms, locations, equipment, asset libraries, and other facilities involved in an organization. Included in this software should be the coordination of those facilities with bidding, billing and payments. However, a quality post-production scheduling software should provide you with the tools to manage, schedule, and coordinate across many different areas and throughout various different phases of the organizational workflow.
MEDIA MANAGEMENT
Media management is crucial to today's challenging environment of disparate platforms and standards for both source content and deliverables. Effective media management involves tracking assets, managing sources and locations, monitoring and updating metadata, coordination with MAM systems, and a great deal more. With farmerswife media management you are provided all of the tools you need to catalogue metadata and upload files through various different fields. With functions such as Media Order or Dispatch, you can produce dynamic cost analyses and reports that allow you to more effectively track the source content and deliverables of your media.
STAFFING AND CREWING
The most important (and often the most complex) aspect of the media creation process: the human resources. Managing people in the most productive way possible results in lower expenses by alerting users to key parameters such as staff and freelance crew availability, employee conflicts, and overtime situations. The Advanced Personnel function through farmerswife is the perfect tool for staffing and crewing in the post-production scheduling process as it allows you to work within parameters that enable you to do things such as assign labor rules, calculate various types of compensation depending on the labor rules, and monitor the difficult things that often plague human resources teams: vacation time, absences, training, and more.
BUDGETING AND FINANCIAL
An effective project cost and budget management tool is worth more than its weight in gold! Optimizing profitability requires full visibility of costs and margins across the entire workflow process, from planning and quoting, through operations and final billing and post-operation analysis. And, farmerswife has just the tool. With the Production Budgeting Option, you can create customized budgets and quotes, thus keeping an eye on real-time costs that allow you to generate the most up-to-date reports and analyses.
CONTENT DISTRIBUTION
This area is particularly challenging in a world of diverse media platforms, expectations of fast turnaround time, and the increased availability of digital delivery options. Tight, automated integration with both transmission and file-based delivery scheduling platforms is no longer a luxury, it's a crucial element in a successful, profitable media workflow process. Our Media Management tool in conjunction with an Adstream integration will allow you to produce your digital media and share it with clients or collaborators all through secure access. Allowing users to encode, share and collaborate on both dailies and masters is crucial while also having a secure space to store raw media safely in the post-production house.
The complexity of media projects continues to increase, while pressure to do more with fewer resources increases as well. Production companies looking to simplify their workflow to concentrate on the complex nature of projects begins with having the right tools. Start using post-production scheduling software today to ensure you're optimizing profitability results through your organizational workflows and keeping an eye on your diverse media projects across varied platforms.