In this facility management software review, you'll discover the best ScheduALL software alternative to use, along with an explanation of criteria for you to be able to choose the best high-performing tool to adapt and meet your business' needs.
Why do you need a ScheduALL alternative and what you should look for?
The recent acquisition of ScheduALL by Xytech Systems will raise many questions among existing ScheduALL clients, wondering which path the new alliance will go. In searching for software alternatives that will provide a comparable solution to meet these clients' needs, we've listed below a few key criteria to help make the right choice.
A complete project management and collaboration software should:
Give a quick overview of the whole project schedule.

Allow

s

cheduling and making changes

using simple drag and drop.

Offer a flexible interface that can accommodate virtually any production or post-production workflow.

Allow Gantt style project planning with clear phases, milestones and booking details.

Keep track of resources, quotes, actuals and invoices in one view.
What is farmerswife?
farmerswife, is a unique project management and collaboration software, designed for media professionals. It's sister product, Cirkus is a SaaS task and collaboration app, built to reflect and adapt to the way teams actually work together. Both products integrate and offer huge possibilities to combine scheduling, project management and collaboration in a most effective workflow.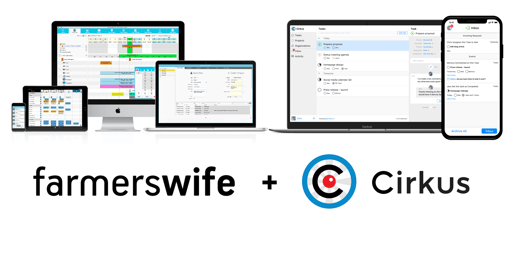 Why farmerswife is the Best ScheduALL alternative?
Starting from a price point of view, farmerswife comes at a significantly lower price than ScheduALL solution. With the cloud hosted solution starting as low as at 200 Euro/month. farmerswife is the best complete media management software, currently listed as the software with the largest UK market share for number of clients. It has been called "the scheduling system of your dreams" and its loyal clients have said that:
"farmerswife enables clear visibility on availability, scheduling and utilization across the various studios and other resources allowing for more informed decisions to be made more efficiently."
What does farmerswife offer?
Easily overview the available resources (i.e people & equipment) and manage their best utilization.

Windows & Mac Desktop client for admin users.

Native iOS app, web and mobile web client for staff.

Provides multi-user remote access, with different privilege levels for users.

U

nlimited resources and projects.

A user-friendly Kiosk service for easy check in/out of equipment.

Control your license costs by easily scaling up and down the number of users, to suit varying production requirements.

Fast responding, friendly and flexible support team.

Team collaboration with Cirkus.

Allows to analyse costs against set production budgets.

Manage staff and freelancer rostering to best match established Union agreements.

Comprehensive set of tools that make everyone's lives easier and a lot more profitable.

Multiple integrations with a huge range of softwares such as: SAP, Quickbooks, Sage, Navision, MS Exchange, iCal, and Google calendar, and more.
| | | |
| --- | --- | --- |
| FEATURES | farmerswife & Cirkus | ScheduALL |
| Project management | ✅ | ✅ |
| Cost Tracking | ✅ | ✅ |
| Invoicing | ✅ | ✅ |
| Unlimited Contact/Freelance database | ✅ | At extra cost |
| Built-in reports module | ✅ | ❌ |
| Unlimited resource scheduling | ✅ | At extra cost |
| Automated schedule changes notifications | ✅ | ❌ |
| Native iOS app | ✅ | ❌ |
| Native Desktop app for Mac | ✅ | ❌ |
| Native Desktop app for Windows | ✅ | ✅ |
FAQ
Why choose farmerswife over any other ScheduAll alternative?
farmerswife offers unlimited resources and projects unlike some of the other softwares out in the market which are limited to a certain amount of resources. It also provides worldwide support and access to manage your business from pretty much any device or operating system.
Which SheduAll alternative is best for your small business?
farmerswife is suitable for any company size or budget, and the clouded solution is very convenient for small companies.
Why farmerswife offers more value for the price?
farmerswife has a significatly lower price than ScheduAll solution. It also offers a streamlined resource management solution to save time, energy, and money all backed up by the farmerswife highly experienced multilingual support team. farmerswife also provides industry leading cloud or onsite architecture.
Is farmerwswife the same as Cirkus?
No, Cirkus is a product of farmerswife. Cirkus is a SaaS task and project management solution built to reflect and adapt to the way teams work. farmerswife and Cirkus can be integrated and work alongside. Cirkus is a standalone Saas platform Task, Resource Scheduling and Collaboration platform but also integrates with farmerswife to provide a powerful combined creative workspace for the media industry.