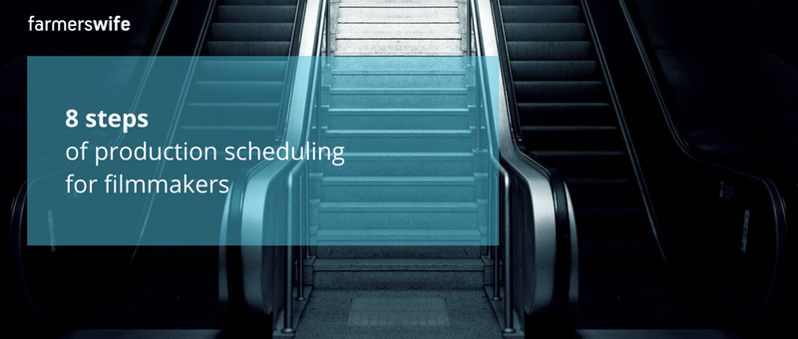 Scheduling and organizing are key factors for any film project. Having a clear overview and understanding of the assets needed to make your film happen is crucial! To be able to do this, the first component on your list should be to have a powerful film production scheduling software such as farmerswife, the media's most powerful scheduling software!
What is a film production schedule?
A film production schedule is the plan that every film follows to make sure that the whole project runs smoothly. The schedule consists of a simple breakdown of the time, cast, crew, company moves, day breaks and many more. Usually developed by the first assistant director during the pre-production phase. This is the stage of the film project management process where all the pre-production information is gathered to provide a solid schedule for the entire filming process.
To guide you on how to schedule film production, we've broken down the eight most crucial steps in film project management during the scheduling phase:
1. Complete the Script Breakdown
Breaking down a script can serve both creative and organizational purposes. When creating a script breakdown for a film production schedule, you are "tagging" items in the script to create a catalog of everything you will need. This provides you with a context for location scouting and to calculate a budget, a good
post production scheduling
tool can really help you!
2. Create a Budget
You can't plan for a production schedule if you don't know how much you are going to spend. Once you've completed the
Budgeting Module
, use it to roughly determine what equipment, crew and cast you will need and how much each will cost. If you end up over-budget, review it to see where you might be able to cut costs.
3. Decide What Equipment You Will Use
Since you have created your
Film production budget
, you can use it to determine the types of equipment you can afford. Once you have decided what to rent and the dates that you'll need them, you can keep track of everything with the
Equipment Management & Tracking
add-on.
4.
Start contacting crew
5.

Figure out your staff's schedule
It is important to keep your staff organized so you know where they are and when they will be working. With farmers
wife
's
Personnel Management
feature, you are able to keep
time tracking
of availability, cast and crew time sheets, overtime and billable hours (which are crucial to a union film project) and vacations or absences.
6. Create The Production Schedule
farmers
wife
provides an all-in-one media management system that allows you to define project stages, milestones and checkpoints. By utilizing this software to create an outline of a schedule, you will be able to better understand how to create the shooting schedule once it's time to put everything in place. It is easiest
to begin this process
by determining how many pages you want to shoot per day.For instance, following this film production schedule example: your scenes require extensive lighting setups or stunts, you will then need to schedule more time.
7. Review your Production Schedule Outline
Once you have a solid script breakdown, a conclusive budget and a good idea of everybody's schedule, you will want to go over your production schedule outline and make sure you're not missing anything. Review, review, review — that way, when you create the shooting schedule, you will save time and not have to second guess anything.
8. Create and Send Out Call Sheets
Now it's time to create call sheets for each day of production. Because you have a clear outline of who and what are needed and where they will need to be, creating a call sheet at this stage should simply mean transferring the information from the schedule to the call sheet and including additional information like weather forecast and hospital information in case of emergencies.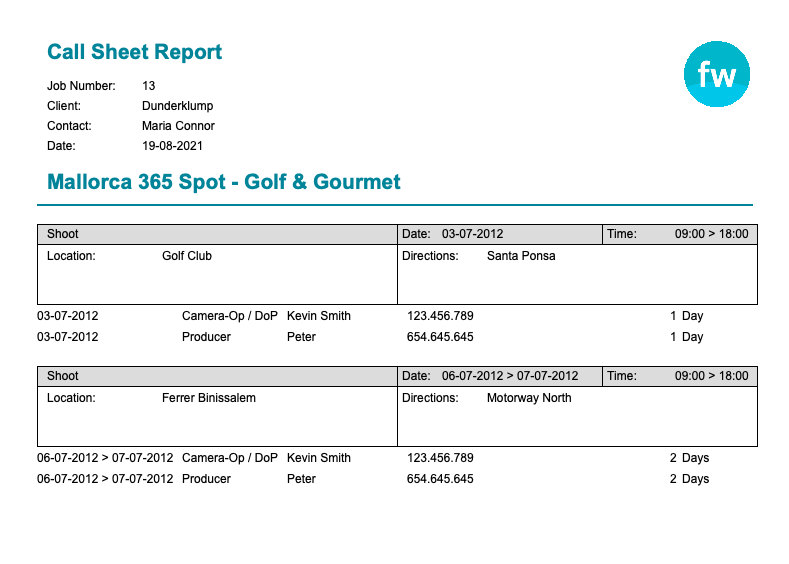 Scheduling Project Management with farmerswife
Production scheduling for filmmakers
can be as easy as you want it to be if you understand the variables involved in the planning process and have gone through the steps above. With the help of farmers
wife
scheduling tools, it becomes as simple as plugging in the numbers for each scene and watching your film come to life!