TV news stations have a lot of work to do, and they need the right software to ensure their teams can work better together and have good communication. It is extremely important to know what is going on in your organization and having the tool that will allow you to know exactly what is going on is crucial for success.
In this blog, we will explore the benefits of using project management software for your TV station and how it can improve your workflow.
Benefits of using a project management software for your TV news station
Project management software is a tool that helps you plan projects, allocate tasks and keep teams organized so that deadlines and goals are met. If you're looking for a way to improve the way your TV station runs, using project management software could be just what you need!
With so many project management systems choosing the right option for your needs can be difficult. You should look for tool that will benefit you and include:
The ability to see all projects and resources. This makes it easier to keep track of what everyone is working on so that nothing gets missed or forgotten about until later when it's too late.
Better communication between departments - Make sure your team can easily communicate with each other without having meetings or emails back-and-forth constantly.

Cirkus is the perfect collaboration tool, witch will enhance your communication and your teams will be able to discuss tasks, share files and revise deadlines.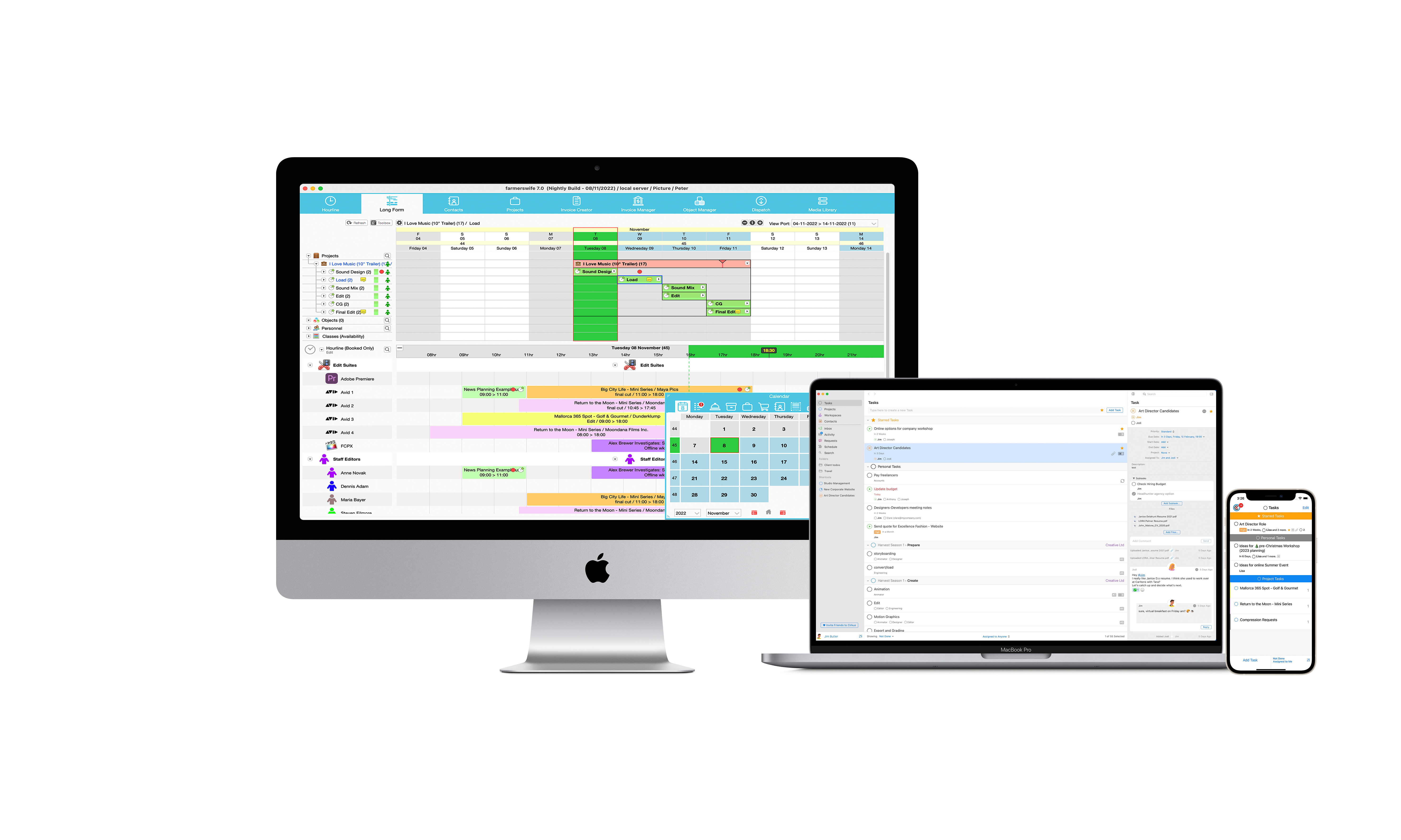 Improved planning and scheduling of projects/shows
If you want to be able to create a schedule for your team, a scheduling software will allow you to do that. If you need to see the status of all your projects, then this is an easy thing for the software. It also allows users to see who is working on what and how far along they are in their tasks. This helps managers keep track of their teams and make sure that everything gets done on time.
In addition to the features listed above, there are two other reasons why news organizations should consider using cloud-based software such as farmerswife and Cirkus.
First, it makes collaboration easier for your team members. If you have remote workers or people who work from different offices, then this is especially important. Cloud-based software allows everyone on your team to access the same information at once and work together towards a common goal. This can lead to more effective communication between different departments and faster decision making overall.
Second, cloud storage makes it easy for you as an administrator or manager of content creation in general whether you're running an entire newsroom or just one department, because all of your files will be stored in one place instead of being spread out across multiple computers.
Easy tracking of progress
The best way to track progress is by using a software that allows you to easily see the status of all your projects. This will allow you to stay on top of things and avoid missing any deadlines or important milestones. With a tool like Cirkus you will be able to see progress on your projects in real time.
How to choose the correct management software for your broadcasting station?
Using project management software in your broadcast station to schedule, and organize work is a proven way to streamline the production process.
When selecting a management software for your broadcasting station, there are a few things to consider. Consider the needs of your team. Are they experienced in using such programs? If not, then it may be worth investing in training or hiring additional staff members who can help with the transition from paper files to digital ones.
Also consider which features the software has and whether they meet your requirements or not and get your team's feedback.
Popular softwares used by US TV stations
Let's go over the most used tools for organizing TV stations:
farmerswife - A

unique project management and collaboration software

, d

esigned for media and broadcast professionals.

It also offers Cirkus its SaaS task and collaboration application, built to reflect and adapt to the way teams actually work together.
Xytech - a

provider of facility management software solutions for media and broadcast companies. Xytech acquired ScheduALL a

provider of enterprise r

esource management solutions for the media,

broadcast and transmission industries.

Microsoft Project - p

roject management software product, developed and sold by Microsoft. It is designed to assist a project manager in developing a schedule, assigning resources to tasks, tracking progress, managing the budget, and analyzing workloads.

MediaCentral - offers the tools, asset management, workflow integration, and remote collaboration you need to break stories online, on mobile devices, on social media, and on air.


How can farmerswife help run a TV news station?
Major broadcasters around the world utilize farmerswife. farmerswife will help you run your TV news station from project schedules and resource allocation, to shift patterns and advanced customised personnel management.
The collaborative platform empowers customers to efficiently organise and track project resources, effectively plan and manage the entire project lifecycle, streamline day-to-day tasks, create tailored budgets, and analyse financial performance in a practical manner.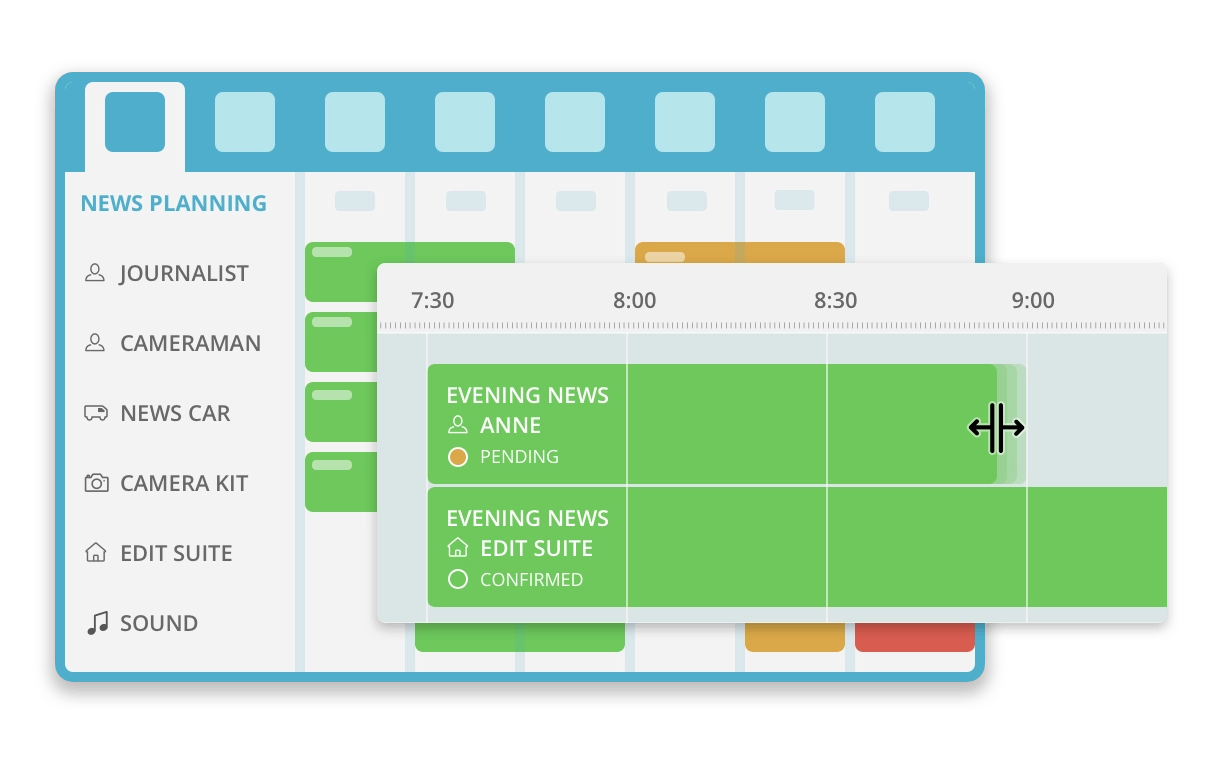 Broadcast management tool
A broadcast management software like farmerswife will allow you to assign and customize complex Union labour rules to your staff and resources. Monitor vacation, absence, overtime, and training.
You will be able to plan and manage your project budgets with ease by keeping a real-time check on quoted vs actuals and generate reports to analyze your project forecast. Track every minute worked by logging both actual and billable time spent on projects. Easily complete your much loved time-reports and you will be able to stay connected with web and iOS apps. Sync with your company calendar.
The great think about farmerswife is that it also offers Cirkus to manage task assignments and collaborate with files and comments and this will make a great difference to your team's performance. farmerswife and cirkus collaboration will solve your company's needs, end to end.
The farmerswife Equipment Management and Tracking Add-On is basically designed for anyone who needs to keep a close eye on all their equipment.
It will allow you to check equipment in and out with barcode/QR scanning, track lost or broken kit, and keep a history of what's been where and when.
You will be able to see a Gannt style calendar overview of your current job with a clear overview of availability. Create and manage equipment kits, including what is under maintenance. Build quotes and send invoices before or at the same time booking the equipment out. Send automated email notifications to crew and clients.
Using an equipment rental software can really benefit your business. "We could not run Electra without the object manager in farmerswife. Thousands of items for rent, easily viewed, booked and managed with a single click, drag & drop." - ELECTRA
Case studies
farmerswife success relies on our customers' success. Read what some of their American TV news stations have said about working with farmerswife:
" farmerswife helps us schedule and manage reports on personnel and equipment across a nonstop production season. The iOS app keeps the crew informed and up to date, helps them checkout needed equipment on the fly, and keeps the time reporting accurate from the field" said Lisa Miyamoto, Production Resource Manager at Oregon Public Broadcasting
"We use farmerswife to schedule all productions for radio and tv. We use the program for personnel, equipment, and facilities. This has streamlined our scheduling process. Everyone has the ability to see where they are scheduled, what's available, and other productions that have been booked. This is a time saver for us. The program allows me to put everything in one place for everyone to see and access. We believe farmerswife will be able to adapt to our changing world well. farmerswife has been able to handle all the production needs we have. There are features which we haven't used yet which we can still grow into." Arizona Public Media
Conclusion
In conclusion, we have discussed the benefits of using project management software for your TV news station. We hope that this blog will help you make an informed decision about which software to use and how it can benefit your organization.