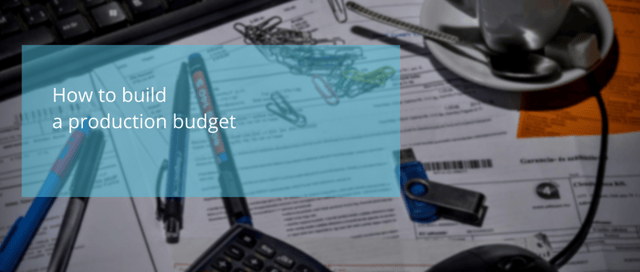 When embarking on any film production, whether feature or short, building a production budget is one of the first and most important steps.
First, we recommend taking a look at our blog on "How to Create a Film Budget"to understand the different categories that are involved. Once you understand the bigger picture, you can begin to focus on the bulkiest (and arguably the most expensive) category: production.
An Overview of the Production Budget
The Production portion of a film budget includes all activities involved in filming the actual video (or film, if you're old school and can afford it). This means you need to budget for the actors, directors, camera operators, grips, lighting, makeup, assistants, equipment rentals, expendables (tape, batteries, memory cards, etc.), meals/snacks, location rental fees, and any travel expenses between sets.
What's Important in a Production Budget?
The answer to this question varies from filmmaker to filmmaker, but the general consensus is that two things are absolutely crucial in creating a successful film: actors and equipment. If you can't afford to pay your actors, you can't make your film. Equally, if you can't afford to rent the equipment required to film the actors, you can't complete the production.
In the age of independent production, there exist many outstanding actors who are willing to work for free in return for "copy and credit" (a copy of the completed film and credit for their work). In this case, while your budget for actors would be significantly reduced, you might have to increase the equipment budget (as well as catering and craft services to keep them fed and happy!) to provide them with a quality film worth their free working hours.
What to Consider When Creating a Production Budget
Once you have figured out what you'll need in your Production budget, you can further advance your financial planning skills by breaking down each line item into this formula (unless the item has a flat fee rate):
Projected Hours x Cost Per Hour
This will make it easier for you, and ultimately anybody looking to finance your film, to see the most accurate version of what it will cost to make your cinematic dream a reality. Here, it also helps to break things such as equipment rental down into even further separated lines (camera rentals, audio rentals, lighting rentals, etc.).
The more you can break down your production budget, the more successful you will be at staying within your finances. To better understand the rates for what you need, it is best to research film production costs in your specific country, city or state.
Project Cost and Budget Management Tools for the Media Industry
Planning a Production budget doesn't have to be hard. Various film video production project management software apps exist along with all-in-one toolboxes for the media industry to get you started and make sure you're budgeting efficiently throughout the entire process.
farmerswife has designed a series of extra options to suit varying requirements whether you are in production, post-production, broadcast, advertising agency, equipment rental or a corporate media department. Take a look at our budgeting add-on to get started planning your production budget today.