Here it is, our Service Pack 1 for the 6.6 Release version of farmerswife!
This Service pack addresses important issues around report design and PDF printing, so do not miss the new SCAN FONTS feature, read more below to know if you will need to use it. And this release is not just an "ordinary service pack" - as we also deliver quite a few nice new features.
With the 6.6 Release version in January we focused on delivering a version that could support macOS Catalina as soon as possible, which is why that version was a bit thin on the feature side. So therefore we decided to include more features with this service pack instead. We hope you will like them!
Read about our HOT features and most important changes below.
Printing is (still) the key!
Wrong fonts, font size discrepancies, empty PDFs and PS files, batch printing issues, slow printing… Quite a list of issues that we have been working hard to fix for this service pack. As we informed with the 6.6 release version, we have upgraded many of the technologies and libraries that farmerswife is built on, and we introduced the new built-in PDF printer. These changes had a great impact and challenges for report design and printing. Read more on PDF printing.
Important! Font Scan ahead...!
If you experience that the fonts in your report design templates look wrong, the printed PDF comes out empty or with the wrong fonts, then the new "Scan fonts" functionality allows farmerswife to correctly read the fonts you have installed on your computer and the server machine.
In most cases, default system fonts will work automatically, however farmerswife is not always able to read fonts installed by each user until you do run the new scan. So we have now implemented that on your first PDF print after the SP1 upgrade you will be prompted to scan your fonts. If at that moment you decide not to run the font scan, you can later use "Scan Fonts" via the Toolbox > Settings > Miscellaneous section. The font scanning takes a few minutes, so it is a good opportunity to take a mini break and some nice deep breaths.

For those of you who use server side printing, e.g. if you use farmerswife to send PDF attachments or share PDFs via the web, it is also important that the Server scans the fonts of the server machine. At server initialisation a font scanning process will automatically start if there has previously not been a fully completed scan. A Server Scan can also be triggered via the Toolbox Scan Fonts functionality.
In the rare case that all looks good in the farmerswife print designer, but your font is still not looking right in the printed PDF (fonts that are not supported will print as Arial), we do have a trick up our sleeve! Adding a special *.csv file to the system will map the fonts correctly - so contact support and we will help you!
We will continuously update to natively support any fonts that you report to us are not printing correctly, so please do keep in touch and let us know! Read more in this article.
Windows or Mac?
No need to maintain separate templates for Windows and Mac anymore! – or did you as a Windows user experience font size discrepancies in your printed PDF?
The great news is that if within your company users were printing from both mac and windows machines, you will no longer need to maintain two different report templates. As with the built-in printer, the printed PDF now looks exactly the same on both systems!
If you had two sets of templates then check now to see which version works best for you. The preferred template is probably the one you designed on a mac client, but please check. You may need to adjust your templates to get the right font sizes.

Like Charts? Go Day Chart!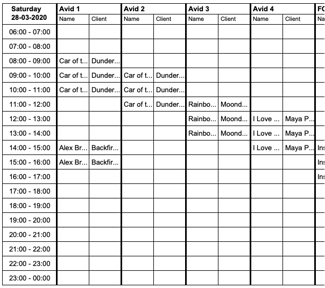 Day Chart is a new report created from the Hourline that displays the Objects from the chosen Hourline view on the horizontal axis and then the time on the vertical axis. The time is displayed by hour, so for example 7:00 - 8:00, 8:00 - 9:00 etc.
The report can also be sent as a daily email for relevant users.
Click here to find out how to set it up!

The Cirkus and farmerswife show
We've brought our farmerswife <> Cirkus integration to the next level. Among other functionality you can click on the Cirkus icon on the left side of the Edit Project window in farmerswife which will open the Project in your Cirkus app. You can also choose whether projects should sync both ways, or just from one system to the other. Click here to learn more!
In LOVE with equipment 😍
We added more love to our EMT option. So now you can sort the items in the Check Out and Check In window by dragging and dropping them up and down! The sorting will reflect itself in the Dispatch Report.
In the Project Report we added a new Element to "Rows" that is called "Object Has Parent" (Yes/No) to be able to differentiate the main objects from its Accessories and vice versa in the Reports. This is useful if the main item should be shown in bold whereas its Accessories should show in normal font.
Are you QR ready?
We are. The Inventory Number of each Object in the Object Manager converts into a barcode/QR code and can be printed out via the Object Manager Report. Simply select one or multiple objects and right mouse click > Reports.
Lots of ad-hoc work to do?
Then you'll love the new Global and Project Notifications on "On AdHoc Timereport Creation".
When it is enabled, you will get the email informing you that an Ad Hoc time report was created, showing you Project Name, User, Time & Date of Ad Hoc TR. Read more here on the configuration.
Object Permissions now work for Web Users too!
Object Permissions allow you to restrict Desktop (Advanced) Users from booking certain Objects with a confirmed status. However, so far it was not possible to give Object Permissions to Web Users in order for them to be able to create confirmed bookings. (The actual booking status of the object was always set to preliminary due to missing object permissions). Now you can give Object Permissions to Web Users to give them the possibility to book objects with a confirmed status. Find out more about Object Permissions.

Swapping multiple Bookings
The Long Form > Project Tree offers a few really nice options that will make your life easier when working with lots of single day bookings (repeat bookings). You can now:
Use SHIFT key to bulk multi-select Bookings from Project Tree
Swap Objects on multiple Bookings in Projects or Objects Tree
Add an Object to multiple Bookings in Projects or Objects Tree
Check out this article for more details on this feature!
Update your Artists with more info via email
With the new feature "Schedule Changes Email Extra Info" you can configure and add extra information to your Schedule Changes Email. You can choose to also include: "Involved" and any of your "Booking Custom Fields". Read more!
The little things...
...should not be unmentioned. You know you can always read all the nice stuff we added (including all nice bug fixes) in our Release Notes... but here are a few of our small highlights:
We added 4 new Elements to User Reports > Total Per User: Total Booking Days, Total Task Days, Total Personnel Days, Total Days. The totals look at the calendar days per each event type where one or more of the same event type have been booked. Total Days is sum of all previous Total Event Days.
A String Operator called "Split" has a field called "Use Element With Index". Entering 0 here makes it return the first element, 1 means second, etc. Now you can also enter negative numbers here, in order to pick elements from the end of the list. -1 is interpreted as the last element, -2 as the second from last, etc. Example: If you split the string "1,2,5,8,10" on the character "," and "Use Element With Index" is -1, then it will give you "10" as a result. Nice for showing in/out dates separately.
Web Share Settings (Email, WebCal etc.) have been moved to it's own section in Toolbox > Settings!
The field Client ID in the Edit Project window is now "hidden".
For the full list of changes in this version take a look at the Release Notes.
Don't hesitate to contact us!
We at the farmerswife support team are happy to help you with any questions you might have. We are just an email or a phone call away!
Want to learn more about farmerswife? Check out our upcoming Webinars!