---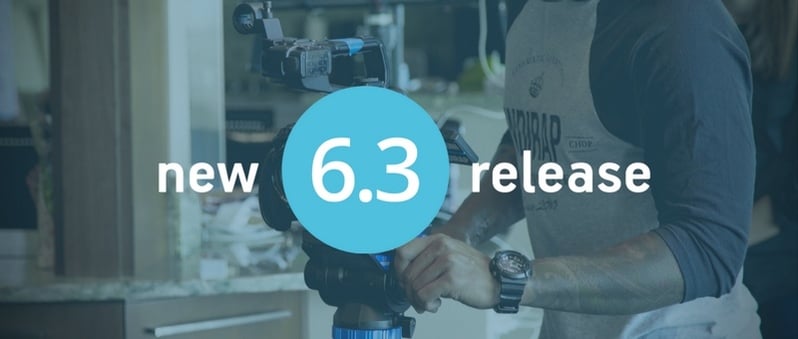 Time flies! Can you believe that NAB 2017 has just passed us by? Now, farmerswife version 6.3 is ready for you with 66 changes since our previous release, including further performance improvements and some bigger integrations like the Azure Active Directory integration.
All in all we've added to this version:
6 Hot Features

15

Features

6 Other changes

32 Bug fixes
Read below to learn more about the new Hotkey for Financial Reports, the cool replace functionality for multi-day bookings and more.
All customers that host their own server and have a valid Service and Maintenance Agreement (Gold or Silver) can now request their 6.3 license.
Our clouded customers will receive a scheduled upgrade information shortly.
---
Now, sit back and enjoy as we explain briefly some of the benefits of upgrading!
1. Reporting made easy
Financial reporting in farmers
w
i
f
e
has never been easier, now you can run a Financial Re
port
on
a predefined
template on a selection of projects or objects from the
Long Form with a simple Hotkey.

2. Juggling many projects?
Do you have trouble getting around to finishing your projects because you are just too busy to take on new work? Here's the solution: our brand new option to "Batch Close" for "active" projects and "Batch Activate" for "closed" projects. Find out how to do it.

As a counterpart, we've also implemented a farmerswife server-side "Project Import from CSV" option. Everything is ready for you to take on a lot of work but not to worry about how to handle them!
To learn how that works, please take a look in our brand new knowledge base.
3. More fun to work with multi day Bookings
Our new function to view available and replace multi-day booking objects for a selected time range is simply great. Now, for example, if you have a 5-week booking and you want to replace a staff member who's going on vacation for a few days, just mark the days and with a simple drag & drop operation, you've got it!
In the Hourline or Long Form, simply mark the days of the multi-day booking you want to replace and then drag the new person over thebooking. A new dialogue box will ask whether or not you want to use the Time Range. All you have to do is press YES and the new person will only be replaced for the marked days on the booking.
There's much more magic surrounding this new function, such as being able to mark a time range and then from a Booking you can ask farmerswife to show the available Class Members for that period. This is convenient if you are juggling a lot of Resources. You can also ask farmerswife to "Replace With Available Class Member" so a new window opens, which lets you choose a Staff member or Object of the same type or function. Find out how to do it here.
4. Be Aware, now you can create alarms on Custom Fields!
With the new functionality to set Alarms on Custom Fields you can easily be notified on things such as ending Music Rights (setup as Project Custom Field), or if the Warranty of a piece of equipment expires (Object Custom Field). Find out how!
Prefer a Nice Looking Schedule Changes Email?
You can now send out the Schedule Changes Email using an HTML Format, find out how to do it here. We have also added more info about changes so it is more evident what has changed (Changed Event, Changed Fields, Old Values and New Values using CSS styles from the new template). This is how to do it!
5. Love your Stuff!
Your equipment is the key…. We know that so we've added again another round of improvements to our EMT module.
Like you can now add a new pdf attachment in the email notification sent when a Dispatch is returned to include the check-in info. This makes it nice and clear to the person who returned the equipment and if anything wasn't as expected. Additionally when a user is notified the dispatch number is now visible at a glance in the email notification's subject that is sent when a Checkout is returned. But also an automated email reminder goes out to the Pickup Contact when the Dispatch has 24hrs left. So it's time to get your stuff back!
If you later want to search by equipment in the Dispatch module, it can now also search the 'Entry Note', which may be used to leave comments on damaged equipment or other.
With large Checkouts or Check-ins it becomes difficult to in Dispatch Window track which line was actually scanned. Now we're always highlighting the respective row you are scanning, thus you won't loose track on where you are in the scanning process.
6. People matter
The IT users among us will be happy to learn that we've added a Microsoft Azure Active Directory integration to sync users and authenticate through the Windows Azure API depending on user's settings. For more information take a look at the Release Notes.
A new Permission for the legacy Super User Permission Type "Tasks / Bookings" called "Can Only Modify Owned Tasks And Bookings" is useful in those cases where you'd not want a user to change other Bookings than then ones he created himself but still he should be able to create Projects.
And now you can also track who made a personnel event by the newly added "Created By" and "Modified By" info in Personnel Event Edit window (Only available for new Personnel Events actions). This has been long on the list and we're happy to finally see it there. Hope you like it too :)
7. Security Matters
We increased security due to user and system passwords being "hashed & salted". Great… but what is the hash of a password? Find out here.
8. Media Matters
In the Media Order window we added a pop up from which you have the ability to create new orders from defined Media Order Objects or Custom. This way you don't need to select a source from the Media Library but can directly add the type or work to be done form the Media Order window. Convenient for Ingest jobs or other. Find out how to do it.
9. Happy Colouring
For those that love colours and use the 'Container' functionality in farmerswife you will be happy to hear that you can now colour code bookings and projects in Hourline and Long Form by the Container colour.
10. Tracking Costs made easy
Now you can archive all your many PO's and Incoming Invoices thus freeing space for what really matters. We've also extended the search areas in both modules allowing to add Suppliers from Global and Resource contacts.
Don't hesitate to contact us!
We at the farmerswife support team are happy to help you with whatever questions you might have, we are just an email or a phonecall away.


---
It's a wrap and we are happy to ship farmerswife version 6.3 to our broad customer base of Post Production Facilities, TV Broadcasters, Production Companies, Rental Houses, Universities and more.
The next version is already in the making and you'll find more features and again performance improvements to make your daily operations a smooth and easy thing. See you at IBC 2017 in Amsterdam!
---